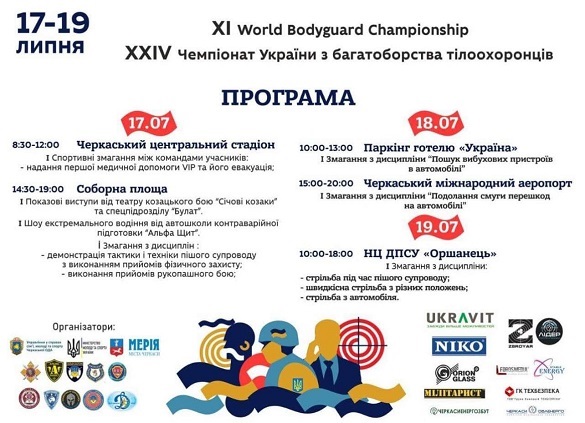 In parallel with the World Cup, the best all-around bodyguards in the national competition will be determined. The competition will last in Cherkasy for three days: from July 17 to 19.
5 foreign teams will take part in the international competitions: State Protection and Guard Service from Moldova, Security Systems from Romania, Special Security Force from Bangladesh, SBU from Azerbaijan and Digital Protection Service from Lithuania. In the championship of Ukraine for the title of the best will compete: Department of Personal Protection UDO Ukraine, Department of Security Police Kyiv, Special Unit "Bulat" UDO Ukraine, women's team UDO Ukraine, Ministry of Defense of Ukraine in / h A 0515, NABU-1 and NABU-2 , State Bureau of Investigation of Ukraine, Special units "Cyclone" of Vinnytsia, Dnipro, Zhytomyr, Zaporizhia, Kyiv, Mariupol, Lviv, Odesa and Kharkiv, Company of TOR of the patrol police regiment of Kryvyi Rih, Judicial Security Service of Kyiv and Kharkiv regions, Special Purpose Battalion of Cherkasy, Federation of Security Guards Ivano-Frankivsk, Federation of Security Guards "Slobozhanshchyna" Kharkiv, Federation of Security Guards "Alpha-Protection" Cherkasy, Special Purpose Center in / h 0952.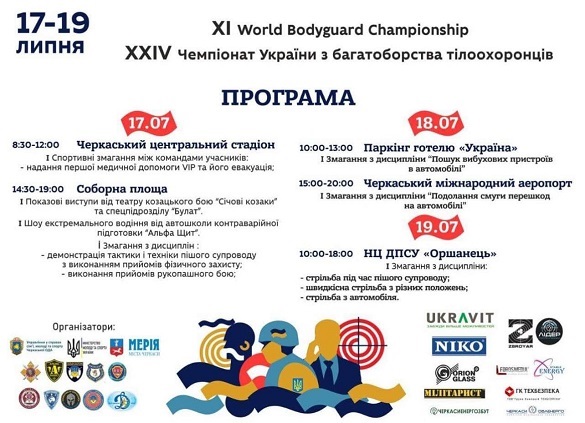 Tomorrow morning at the Cherkasy-Arena stadium there will be a stage of VIP medical care and its evacuation, and in the afternoon on Soborna Square there will be a grand opening ceremony, demonstration performances, as well as defense exercises during foot escort and hand-to-hand combat.
On Sunday, the teams will first look for the "explosive" in the cars in the square near the Ukraine Hotel, and then at the local airport they will overcome the obstacle course on the car. The participants will spend the final day at the shooting range of the Main Center of the State Traffic Police of Ukraine, where they will demonstrate their skills of safe and effective handling of weapons. On the same day in the evening the results will be summed up and the winners will be awarded in the hotel and restaurant complex "Selena".