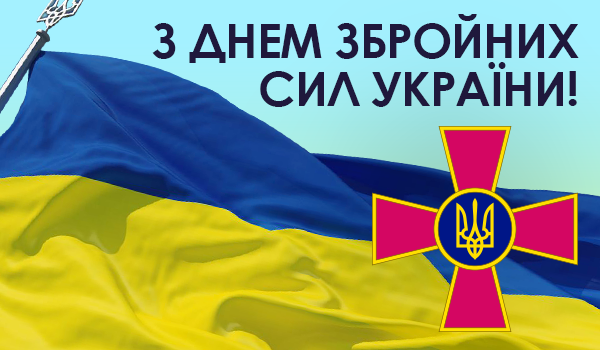 Dear servicemen, dear veterans!
We sincerely congratulate you on the Day of the Armed Forces of Ukraine – a holiday of everyone who stands in defense of our Motherland, guards its borders, protects our peace and tranquility. Currently, the Ukrainian army is being revived in the conditions of war, passing numerous tests, becoming stronger and more courageous, breaking the enemy's invasion plans every second. Our army is proof that the country is ready to fight for the independence of all its territories and national identity, and you, soldiers, are an example of indomitable spirit, self-sacrifice and faith in the native state and its future.
So our dear defenders! Accept the most sincere words of congratulations on the occasion of the Day of the Armed Forces of Ukraine! We thank you endlessly for your courage, heroism and self-sacrifice. We wish you peace and harmony, faith and strength, success in everyday life, confidence in your abilities, endless energy, courage and courage in military service in the name of a united, sovereign and independent Ukraine. Especially on this day, I would like to remember and celebrate all those who are currently directly behind enemy lines. We wish you, our warriors of light, to return home to your families as soon as possible and never again to know the cold of the trenches or the sounds of enemy artillery.
A low bow to veterans – for active citizenship and raising brave descendants. Eternal memory to the soldiers who gave their lives for the Ukrainian land! Best regards, Head of DBF Oleksandr Bukhanovskyi.